Gluten-Free Oatmeal Butterscotch Cardamom Cookies
Note: This recipe was first posted on my original blog, Celebration Generation, on September 22, 2020. It was transferred over to this blog - existing comments and all - on 3/8/2021
A few days ago, a friend messaged me on Facebook:
I got an unusual cookie from the local organic bakery today: oatmeal, butterscotch, and cardamom. It's really delish - but weirdly, I can't find a recipe for it on Pinterest. Passing it along as an idea for ya!
It sounded GOOD, so I asked for more details.
"Chewy. They are thick. The cardamom is fairly subtle, I think there's a bit of cinnamon in there too. It's quite sweet, and I think maybe something slightly acidic, like orange zest, could take it to the next level."
I was glad that they mentioned orange, because I was thinking orange would go well with the initial description.
So, yes, challenge accepted!
Gluten-Free Oatmeal Butterscotch Cardamom Cookies
I decided to make them gluten-free, as I wanted in on this deliciousness - obviously.
Another nice thing about making them gluten-free is that gluten-free oatmeal cookies - the way I do them, anyway - are better than wheat based oat cookies. I love using oat flour, especially - the taste and texture makes for a much better oatmeal cookie, IMHO.
These are basically a gluten-free oatmeal Scotchie cookie, but with the cinnamon swapped out for cardamom, and the addition of orange.
Scotchies are great - I don't make them often enough, TBH - but these are definitely elevated from that base idea.
"Warm" spices - Cinnamon, Cardamom, Cloves, Nutmeg, etc - all work really well with an oatmeal cooking, but I wouldn't have come up with the butterscotch + cardamom on my own. It was fantastic!
These were chewy, with a bit of a crispy texture on the outside. Cardamom and orange always work well together, and they actually worked really well with the butterscotch.
Weirdly, the cookie tastes like Christmas to me!
I tinkered with the amount of cardamom added, and settled one 1 ½ tsp. This made a nicely balanced cookie. If you're looking for a more in-you-face cardamom flavour, you could go to 2 tsp, or even 2 ½ for a VERY cardamom forward cookie.
Naming Them
"Oatmeal Butterscotch Cardamom Cookies with Orange" is a bit of a mouthful, though. They kind of remind me of my "Sweet Ecstasy Cookies" in that sense- there's a lot going on, so a nice, easy name - based on ingredients - doesn't work so well.
... so I'm calling these "Annies", after the friend who brought the idea to my attention!
So, a bit about the namesake!
I met Annie (Instagram, Twitter) at Convergence one year, about a decade ago - I think maybe on Twitter as part of Convergence? - and they are all kinds of awesome.
They're also a member of Misbehavin' Maidens, a nerdy, feminist comedy band!
Here, their website description says it all:
"The Misbehavin' Maidens are a bawdy nerd-folk comedy band comprised of four women from the Washington, D.C./Baltimore area with a love of feminist, sex-positive music, LGBTQIA+ representation, parodies, drinking & fandom references for the 18+ geek crowd.
Performing in cosplay, pirate garb, and occasionally plain clothes, the group can be found at local theme bars and fandom conventions all across the country"
If you can see the awesomeness in all of this, be sure to follow them on Twitter and Instagram.
Anyway, more about those cookies!
Aside from the added flavours - cardamom, orange, butterscotch - the flour mixture itself complements and supports the heft of the oats, and the cookies have a wonderful chew to them.
About the Oats
While oats are inherently gluten-free, they have a high risk of cross-contamination. For this reason, it's best to use oats and oat flour that are certified gluten-free, when you need the cookies to be gluten-free.
Oat Flour
As with the oats, if you need these cookies to be gluten-free, make sure you're starting with oat flour that is labeled as being gluten-free.
Can't find any? No problem! Measure about ¾ cup gluten-free oats into a food processor and let it rip. In a minute or two, you'll have your own oat flour!
Measure out your ½ cup from the ground oats - the ¾ cup starting amount is just an estimate, you may need a little more or a little less to make ½ cup.
How About NOT Gluten-Free?
So here's the thing. You can totally make these as regular wheat flour cookies, but they're not going to taste QUITE as good.
I'm not kidding when I say my gluten-free cookies taste as good OR BETTER than the wheat versions!
The flours I use for these cookies - Oat, Sorghum, and Coconut - all taste better than wheat flour. Not only that, the flavours of these flours work REALLY well together, with the oats, and with the cardamom and orange flavours. They just really play well together.
So even if you're not gluten-free, I recommend doing this recipe as-is. I promise you won't be able to tell they're gluten-free!
If you don't happen to have the flours on hand and want to go ahead with a wheat flour version, here's how I'd suggest to do it:
- Leave the oat flour in there. You have oats for the recipe, after all! Just toss some in a food processor and let it rip. Oat flour just tastes so much better than wheat flour.
- Take out the Sorghum flour, Coconut Flour, Tapioca Starch, and Xanthan gum.
- Add in ¾ cup All-purpose (wheat) flour, with the dry ingredients mixture.
Now, on to that Gluten-Free Oatmeal Butterscotch Cardamom Cookies recipe!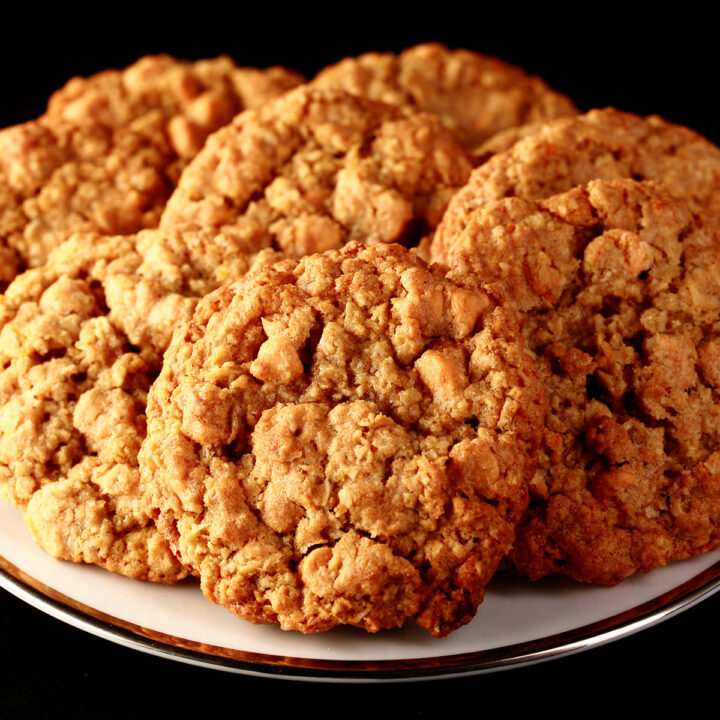 Print Recipe
Oatmeal Butterscotch Cardamom Cookies
Gluten-Free Oatmeal Butterscotch Cardamom Cookies - Or "Annies", as I'm calling them - are chewy, comforting, a little spicy.. and SO tasty!
Servings:
30
large cookies
Ingredients
1

cup

Butter

softened

1

cup

Light brown sugar

packed

½

cup

Granulated sugar

2

Large eggs

Zest of one orange

1

teaspoon

Vanilla extract

½

cup

Sorghum flour

½

cup

Gluten-free oat flour

¼

cup

Coconut flour

1

tablespoon

Tapioca Starch/Flour

1 ½

teaspoon

Ground Cardamom

1

teaspoon

Baking soda

1

teaspoon

Xanthan gum

¼

teaspoon

Ground Cinnamon

½

teaspoon

Salt

3

cups

Gluten-free rolled oats

1 ½

cups

Butterscotch chips
Instructions
In stand mixer, cream butter and sugars until fluffy.

Add eggs, orange zest, and vanilla extract, beat until everything is fully incorporated and smooth.

In a large bowl, mix together flours, starch, baking soda, spices, xanthan gum, and salt.

Slowly add this dry mix to the mixer bowl, and carefully mix until well incorporated and smooth. Add oats and butterscotch chips, continue mixing just until well incorporated.

Wrap dough in plastic film, chill for 1 hour.

Preheat oven to 350 F (180 C), line baking sheets with parchment paper.

Roll 1.5" balls out of the cookie dough. I like to use an ice cream scoop for ease and consistency in size.

Arrange dough balls on baking sheets. Leave at least 2" between cookies - they flatten out a fair amount.

Gently press the tops of each slightly - flatten JUST enough to prevent the dough from rolling.

Bake for 11-13 minutes. Cookies will look puffy, but flatten out as they cool. Do not over bake!

Allow cookies to cool for 2 minutes before removing from baking sheets.

Cool completely before storing in an airtight container
Nutrition
Calories:
185
kcal
|
Carbohydrates:
28
g
|
Protein:
2
g
|
Fat:
8
g
|
Saturated Fat:
4
g
|
Cholesterol:
28
mg
|
Sodium:
180
mg
|
Potassium:
61
mg
|
Fiber:
2
g
|
Sugar:
18
g
|
Vitamin A:
213
IU
|
Vitamin C:
1
mg
|
Calcium:
16
mg
|
Iron:
1
mg